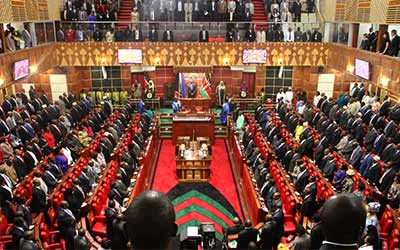 All Sovereign power belongs to the people of Kenya and shall be exercised only in accordance with this Constitution
NASA Court cases against the IEBC A three-judge bench hearing a judicial review filed by the National Super Alliance (NASA ...

Integrity queries haunt some aspirants The Ethics and Anti-Corruption Commission (EACC) threw clearance of some aspirants into uncertainty. The Commission ...

Aspirants in the 8th August Polls Four thousand aspirants were cleared by the Registrar of Political Parties (RPP) to run ...
Mzalendo ('Patriot' in Swahili) is a non-partisan project started in 2005 whose mission is to "keep an eye on the Kenyan parliament". Mzalendo seeks to promote a stronger public voice and to enhance public participation in politics by providing relevant information about Parliament specifically about Senators and MPs activities.